Lee Harvey Oswald
Main Page of Kennedy's Assassination

Lee Harvey Oswald left the United States in 1959. He was 19 at the time.

Oswald was a U.S. Marine Corps sharpshooter.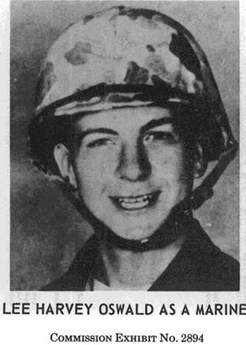 He never graduated from high school.
His family moved around a lot. When he dropped out of high school, he had lived at 22 different addresses and attended 12 different schools.
Oswald wanted to attend a University in Russia, but he was assigned to factory work.
He met his wife, Marina Prusakova at a dance. The married on April 30th, 1959.
Lee is disenchanted with the Soviet Union. He decides to return to the United States. In 1961 the U.S. State Department returns his American passport to him. He finally leaves Russia in June of 1962.
His brother gives him money to fly from New York to Dallas. Oswald is disappointed that the media hasn't paid any attention to his return to the United States.
While living in Dallas he had a job working for Jaggarss-Chiles-Stovall. He was a photographic trainee. Part of their business was handling the classified photographs taken by U-2 spy planes.
In August of 1962, Lee Harvey was interviewed by the FBI. The FBI interviewed him for over an hour. The agents recommend that his file be closed. He doesn't own a gun and doesn't seem dangerous.
Oswald was upset by the Cuban Missile Crises, he thought the Russians had the right to have missiles in Cuba.
Oswald joined the Socialist Workers Party while he was in Dallas.
He and his wife had frequent arguments. She finally left him and moved in with a friend.
---
---
On March 12, 1963, Oswald purchased a rifle in addition to the pistol he had bought earlier. It was an Italian Mannlicher-Carcano, model 9138. He bought it via mail order from an ad in American Rifle magazine.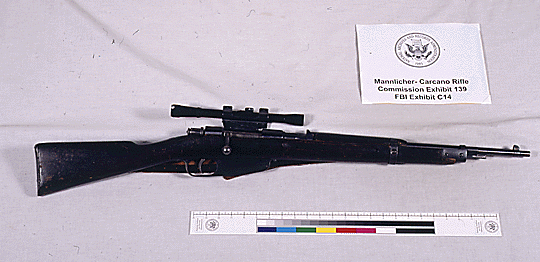 Oswald's Rifle
Source: Wikipedia - http://en.wikipedia.org/wiki/File:CarcanoRifleNARA.gif
Ad from Rifleman's Magazine
The rifle is on the left. Third ad down the page.
Source: http://mcadams.posc.mu.edu/kleins.jpg via Wikipedia, Public Domain.
On March 31, 1963 Oswald when to Marina's house dressed in all black. He had his pistol in his belt, the rifle and Communist Newspapers in his had. He had Marina take his picture.
On April 6, 1963, he was fired from is job.
Later in April, Oswald tries to kill Major General Ted Walker who is retired and is very anticommunist. He fired one shot but hit the window pane. After firing the one shot he ran to his house. He told his wife he had killed the General. Lee Harvey thought he would be a hero to the Communist Party members.
He also tried to take his pistol with him to see Nixon. Marina saw the gun and locked Oswald in their bathroom for the rest of the day.
In August of 1963, Kennedy plans a fund raising trip to Texas. He is slipping in the election polls in Texas and knows it will be a key state in the 1964 election. He invites Vice President Johnson to go with him. Johnson is from Texas and has numerous supporters there. He also asked Jackie to join him in Texas. Jackie is very popular an having her on the trip will be good for his campaign.
September 1963, Oswald travels to Mexico hoping to gain the right to travel to Cuba. He wants to live in a Communist Country. Oswald got into an argument with an official at the Cuban consulate and is told he will not be given a visa to go to Cuba. (Some weeks later he does get the visa.) Oswald is upset.
October 16, 1963, Lee Harvey Oswald gets a job packing books. He now works at the Texas School Book Depository.
On October 18,1963, Oswald learns that the Cuban Consulate has changed their mind and granted him a visa to Cuba. (It is too late!)
October 20, 1963, Marina and Oswald become parents again. Audrey Marina Rachel Oswald was born.
November 11, 1963, FBI Agent Hosty visits Marina Oswald. She is living with a friend, Ruth Paine. Ruth tells the agent she doesn't know where Oswald lives, but knows he works at the Texas School Book Depository. Hosty decides Oswald is just a young man with problems in his marriage who drifts from job to job.
November 16, 1963, Sterling Woods, age 13 sees Oswald at target practice. Oswald is shooting the Italian carbine he purchased earlier.
The Dallas Times Herald published a map of Kennedy's route in Dallas.
Oswald took brown wrapping paper from his to "get some curtain rods." He uses the paper to cover his rifle.
Lee Harvey Oswald left his wedding ring and $187.oo at his wife's house.
Oswald stacked boxes on the sixth floor of the Book Depository Building to hide him from his co-workers. The sixth floor is under reconstruction and is empty. Oswald will have an excellent view of the corner of Elm and Houston where Kennedy's car will need to make a slow 120 degree turn.
In the car with Kennedy is his wife Jackie, Texas Governor Connally and his wife Nellie.
Vice President Johnson is in a rented car fifth in the parade. He is not happy about it.
Dallas police chief Curry ordered his police men to face towards the street. (They usually face the crowd so they can watch for problems.
Just after 12:30 pm on November 22, 1963 Lee Harvey Oswald fired three shots at the President. The first hits the President in the back of the head and then hits Governor Connally. The second bullet hit the President squarely in the head. (There is speculation that if the president hadn't been wearing a back brace he would have slumped forward and the second shot would have missed him.
The car raced to Parkland Hospital, but it is too late.
A policeman enters the building looking for the shooter. He stops Oswald, but lets him go when he sees he works in the building.
Lee Harvey Oswald boarded a bus and is getting away. His bus gets stuck in traffic so it got out and walked. He then got a cab and went to his rooming house. He picked up his pistol there.
After he leaves the house he is stopped by Police Officer Tippit. Oswald shot Tippit and killed him.
Oswald hears sirens and runs into the Texas Theater. He runs by the ca shire wish draws attention to him. The ca shire hears the sirens also and calls the police.
When he is approach by the police he hits another officer and then is arrested about an hour and half after the shooting.