Books and Tapes for teachers about Special Students
---
These are books and resources suggested by teachers and consultants. If you click on the title of the book you will be taken to Amazon.com where you can learn more about these books.

---

Teaching Kids With Learning Difficulties in the Regular Classroom: Strategies and Techniques Every Teacher Can Use to Challenge and Motivate Struggling Students - By Susan Winebrenner and Pamela Espeland
From an Amazon Reader:

This book provides useful strategies for teaching all types of children, not just those with learning differences. Winebrenner promotes awareness of each child's unique learning styles and provides practical, teacher-friendly ways to make the classroom friendlier for children with learning differences, gifted children, and any other children who can benefit from sensitivity to their individual ways of learning.

---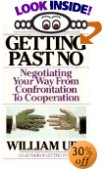 Getting Past No: Negotiating Your Way from Confrontation to Cooperation -By William Ury
From and Amazon Reader:
From Amazon:
Do you remember the last time you put to use anything you read? How many books are interesting but not useful, or useful but not interesting, or useful and interesting but too complicated or impractical. This book suffers from none of those dysfunctions, but is wholly interesting, wholly practical and wholly usable.

If you are in the fortunate position of having the opportunity and motivation to put what the book teaches to use as you read it, you will undoubtedly find that it dramatically increases your ability to 'let others have your way' and reduces the stress of negotiating (or selling, or whatever else you want to call trying to get, or give, something to or from someone else). The steps and principles are short and simple enough for even the shortest and least focused memory to remember and employ, and despite [sic] being based on research at the Harvard Negotiation Project, you will find them consistent with your past experience and immeasurably valuable for your future.

---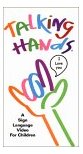 Talking Hands: A Sign Language Video for Children VHS Tape

Kids gobble cookies, blow bubbles, open and close a box of dress-up items, even sit on the potty to illustrate some of the 31 hand gestures taught throughout this excellent sign language video. Much like a mini video "dictionary," teaching focuses on word recognition alone--not the alphabet nor on full sentence structure--and covers a smart variety of simple verbs and nouns (based on American Sign Language and Signing Exact English). The format is simplistic but highly effective, and keeps the action moving. After the word appears on-screen, an adult carefully signs and pronounces it twice. Then, scenes flip open like book pages or spin like revolving doors to reveal several real-life examples; for instance, "grandfather" fishes with his grandson, eats cereal, and reads a book. More hand gesture repetition, performed by a culturally diverse group of grownups and kids, offers lots of practice time. Probably best used in the home or in a hearing classroom, this visually and audibly appealing 40-minute show comes from the folks who created Parent's Choice award-winning

---