Some of the most popular resources are:
Facts and Trivia about U. S. Presidents
Facts and Trivia about the First Ladies
Resources and Lessons on the Holocaust
Resources on Martin Luther King Jr. and Black History.
Timeline of the History of Detroit and the
History of Michigan.
Photos of Lumbering in Michigan
---
---
The CDV - Books
Pursuit of Happiness
The Pursuit of Happiness: As long as you don't interfere with others you have the right to seek happiness in your own way.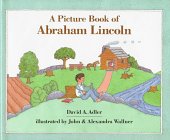 A Picture Book of Abraham Lincoln
by David A. Adler, Alexandra Wallner (Illustrator), John C. Wallner (Illustrator), Alexandra Wallner (Illustrator)
A beginners autobiography of Abe Lincoln.

Coming to America
by Betsy Maestro

Clearly tuned into her audience, Maestro (The Discovery of the Americas) offers a neatly distilled overview of U.S. immigration, covering extensive ground without oversimplifying. She astutely makes each reader a part of her story, stating, "All Americans are related to immigrants or are immigrants themselves." See Amazon.com to purchase or to read reviews.
by Eve Bunting (International Reading Association Teacher's Choice Award)
This book is wonderful. The story is a classic example of the pain and hardship of coming to America. The graphics are beautifully done and combine both drawings as well as real pictures of the period. It brings the history of the period to life. Highly recommended.See Amazon.com to purchase or to read reviews.
Grandfather's Journey
By Allen Say

The retelling of a man's recollections of his first experience helping an escaped slave. The book brings the underground railroad down to the level primary students can comprehend.
---
---
---
---