Some of the most popular resources are:
Facts and Trivia about U. S. Presidents
Facts and Trivia about the First Ladies
Resources and Lessons on the Holocaust
Resources on Martin Luther King Jr. and Black History.
Timeline of the History of Detroit and the
History of Michigan.
Photos of Lumbering in Michigan
---
---
The CDV - Books
Diversity
Diversity: The differences in culture, dress, language, heritage and religion are not just tolerated, but celebrated as a strength.

---

Fredereick
This children's book is about a field mouse named Frederick who discovers he is a poet. All the other field mice are working hard to prepare for winter; but, Frederick seems to daydream all the time. When winter comes we see the value of his daydreaming and the importance of poetry and the arts. The book was a 1968 Caldecott Honor book (i.e., a runner-up to the Medal winner) for best illustrations in a book for children. I recommend the book highly.

See Amazon.com fo more detail Frederick
---

Mathew's Dream A classy, classic Lionni mouse fable with themes like those in Frederick (1967) or Geraldine, the Music Mouse (1979, both Pantheon). Here, too, the joy, exuberance, and service of an artist's calling are made clear to the very young. A poor mouse couple lives in a dusty attic where they have great hopes for their only child. When they ask Matthew what he wants to be, however, he is uncertain--until the day his class goes on a field trip to the art museum. Matthew's Dream
---
The Rainbow Fish
If you read this very popular book just before bed, and the light is still on in the hallway, you can make the rainbow scales glitter on the page, and realize why the Rainbow Fish was so proud of his beautiful decoration. Sometimes, though, being too proud of outside beauty can blind a fish, or a child (or even, heaven forbid, a parent) to the beauty people hold inside. The Rainbow Fish
Rainbow Fish Hand Puppet It looks and sparkles just like the Rainbow Fish in the books. As a hand puppet, it works very well as an adjunct to reading the story aloud. On display in a child's room (or elsewhere), it is really quite lovely.
---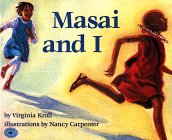 Masai and I by Virginia Kroll
A young African American girl muses, "if I were a Masai," and compares her own life with what she has learned in school about East Africa and its inhabitants. She considers where a Masai girl would sleep, how she occupies her time, what kinds of animals she would see. Masai and I
---
All for the Better : A Story of El... by Nicholas Mohr, Rudy Gutierrez (Illustrator), Nicholasa Mohr
In this book, Ms. Mohr gets at the heart of Puerto Rican pride with the touching story of a young girl sent to the mainland, so her family on the island of Puerto Rico won't be so burdened financially. Evelina Lopez is 11 years old at the start of the story. She is saying her good-byes to her mother and two sisters. She is leaving to live with her aunt and uncle in New York during the Depression Era.
---
After returning from a solo trip to Guatemala, I was looking for a way to give my children a sense of what the country is like - not just what I saw there, but what I felt, being among the Maya. This book provided me with the tool I was looking for. This touching story weaves the importance and closeness of Mayan family, the responsibility that Mayan children must assume early in life, and a bit of the mysterysurrounding the people into a wonderful tale. Reading Abuela's Weave to my children was one of the only times I have ever cried over a children's book.
---
Fly Away Home
by Eve Bunting, Ronald Himler (Illustrator)
"This is one of my all-time favorite children's books. Eve Bunting does an excellent job of narrating a difficult subject through the voice of a child. The illustrations add to the beauty of the writing. Although it is written for a younger audience, it can be read to a group of older students with the same effects."
---
---
---
---