Assassination Attempts on Gerald Ford
There were two attempts to Assassinate President Ford. The first was on September 5, 1975 and the second a few weeks later on September 22, 1975.
September 5th Attempted Assassination
President Ford was in Sacramento, California to discuss violent crimes. He was walking across the California capitol grounds to meet with the governor of California. He was shaking hands and greeting people along the route. Ford saw a small woman in a red dress and hat keeping pace with him. When he reached out to shake is hand he saw the .45 caliber gun. Secret Service agent, Larry Buendorf grabbed the gun. The woman said "Don't get excited it didn't go off!" The gun was loaded, but there wasn't a bullet in the firing chamber.
Other agents rushed the president into the California Capitol building. When he met with the governor he didn't mention the assassination attempt. The woman who tried to shot him was Lyneette Alice Fromme. She was best know as "Squeaky" Fromme. She was friends with Charles Manson who was serving a life sentence for killing actress Sharon Tate and six other people.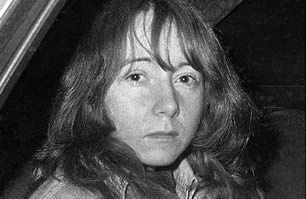 "Squeaky" Fromme
(Zeboski/AP)
She claimed she wasn't trying to shoot the president. She wanted to be caught and have a trial that Charles Manson could testify and he could convince people to give him a new trial.

Manson was never called as a witness. "Squeaky" was found guilty an sentenced to life imprisonment. Fromme was housed at Federal Medical Center Carswell in Fort Worth, Texas.She escaped from jail in 1987. She was caught two days later and returned to prison. While she was in prison she attacked another inmate with a claw hammer.
In 2009, she was released from prison. She had been in prison for thirty years. Also, President Ford had died earlier.
---
---
September 22, 1975 The second assassination attempt of Gerald Ford occurred.
President Ford was in San Francisco. He was staying a the St. Frances Hotel. He was leaving the hotel after giving a speak There were over 3,000 people across the street wanting to see the president. As he headed for the car to go to the airport, Sara Jane Moore pulled out a .44 caliber pistol from her purse. The hammer was cocked. She pointed the gun at Ford who was about 40 feet away. Just after Moore pulled the trigger an ex-Marine, Oliver Sipple, standing near her saw what was happening and grabbed her before she could fire another shot.
The bullet passed with in a few feet of Ford. It hit the hotel and the bounce to the right injuring a cabdriver.
Sara Jane Moore had been interviewed by the Secret Service the night before, but released as she did not fit the current profile of a potential presidential assassin. The Secret Service took confiscated her gun a .44 caliber pistol. They let her go because she didn't meet their assassination profile.
She bought another gun that morning. She purchased a Smith and Wesson .38 caliber gun. The gun proved to be faulty. The sight of the gun was off causing her to miss President Ford by a few inches. Further examination showed that if the sight had been correct she would have hit President Ford in the head.
She drove to San Francisco and the St. Francis Hotel where the president was speaking. She was standing by the side door waiting for the president to come out of the building. At one time she started to take the gun out of her purse when an aid who looked somewhat like the president walked out of the building.
When President Ford came out she held the gun in her right and braced it with her left hand and put the site on Ford's head and fired. She fired just over the president's head. Most think her missing was do to the sight on the gun.
She raise the gun to take a second shot but an ex-marine, Oliver Stipple grabbed her arm. Police officer Timothy Hettrich grabbed the gun and forced it from her hand.
The Secret Service pushed for into the limo and yelled at the driver to go. The president responded with "Hey, will you guys get off of me. You're smothering me."
Sara Jane Moore was arrested at the scene. She was from West Virginia. At one point she was an informant for the FBI on her radical friends.
"She did not act alone. In fact she had been working with an underground radical organization called Tribal Thumb. She was training with them. They did take her in after she "outed" herself to the same organizations she was spying on for the FBI."* The FBI never found the people that might have aided her.
She later said, "If I had had my .44 with me I would have caught him."
She was sentenced to life in prison. She escaped in 1979 but was captured a four hours later. She was released in 2007 after thirty-two years in prison. She was 77 when she was released.
Sara was the only person who attempted to assassinate a president that has been released from prison.
Sara Jane Moore was the first woman to fire a shot at a president.
*Special thanks to Geri Spieler author of Taking Aim at the President: The Remarkable Story of the Woman Who Shot at Gerald Ford
for her comments and corrections in this section.