George Washington
1789 - 1797
First President
George Washington was born on February 22, 1732 in Westmoreland County, Virginia. His parents were Augustine and Mary Bell Washington.
Interesting note: Washington was born on February 11, 1731, based on the Julian calendar then in use in the British Colonies. When the Gregorian calendar was adopted in the English Colonies (1752), he opted to begin observing his birth date anniversary on the equivalent date of February 22, 1732. (See Wikipedia http://en.wikipedia.org/wiki/Washington's_Birthday)
George had seven brothers and sisters.
His father died when George was 11.
The tale of George cutting down the cherry tree was created by Parson Weems. It is not true.
He loved to snack on nuts. hazel nuts were one of his favorites as well as shellbark Nuts that come from a hickory tree. He also enjoyed fish and ice cream. Some sources say his habit of cracking nuts with his teeth was why he had to have false teeth. See below for the make up of his teeth.
George liked to explore caves.
When he was 20, he inherited Mount Vernon. That made him on of the largest landholders in Virginia. Washington added new land until Mount Vernon covered over 8,000 acres.
George Washington married Martha Dandridge Curtis. He was 26 and she was 27. She was a widow and had two children.
---
---
Washington owned slaves. He freed his 300 slaves in his will when he died.
During the French and Indian War, Washington had two horses shot from beneath him and four bullets went through his uniform.

Washington at Mount Vernon.

He was about six feet two inches tall and weighed abut 175 pounds. Later in life his weight went up to about 200 pounds. His shoe were size 13.
George Washington - Commander in Chief of Continental Army during the American Revolution. He banned the men in the army from using curse words.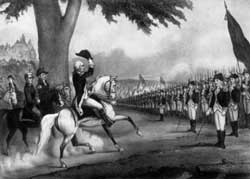 "Washington Taking Control of the American Army,
at Cambridge, Mass. July 1775." Copy of lithograph by Currier & Ives, 1876.
National Archives and Records Administration
He had no children of his own. He did adopt his Martha's two children from her previous marriage.
At one time he was the largest distiller of whiskey in Virginia.
He also worked as a surveyor.
President Washington was the only president who was unanimously elected president by the electoral college. He ran unopposed for both terms.
George Washington was fifty-seven when he was elected president.
George was one of two presidents who signed the U.S. Constitution. (James Madison was the other president that signed the Constitution.
Martha Washington missed George's inauguration because she couldn't get to New York in time for the event.
He was the first president to veto a bill from Congress.
His salary was $25,000 per year. He declined to take the money.
George Washington's Vice President was John Adams (1789-1797).
Washington traveled to all the of states in the United States while he was president.
Washington was the only president who didn't represent a political party.
George was the only President who was inaugurated in two cities, New York and Philadelphia.
His first inauguration address was 90 seconds long and consisted of 183 words. The second inaugural address was only 135 words. That was the shortest inaugural address by a president.
President George Washington did not live in the White House. The capital was in Philadelphia and New York while he was president.. He is the only President that didn't live in the White House. He did help select the the place for the new capital and surveyed the area.
Washington never wore a wig. He wore his hair pulled together in the back.
President Washington was one of seven Presidents from Virginia.
George Washington had false teeth that were carved from, whale bone, rhinoceros ivory and deer antlers. Some sources I have read say they didn't contain any wood. He still had one tooth when he was elected President.
Three states were added to the union while he was president: Vermont (1791), Kentucky (1792), Tennessee (1796).
Washington was one of three Presidents who had adopted children.
Washington loved cream of peanut soup.
George loved horses. Before riding he insisted that the horse be cleaned from head to hoof. He even had his helpers brush the horse,s teeth.
He is considered to be one of America,s greatest Presidents.
President Washington's picture on the $1.00 bill is based on a painting by Gilbert Stuart..
He had several dogs. Their names were Sweet Lips, Taster, Tippler, Forester, Vulcan, Madame Moose, Mopsey, Drunkard, True Love and Searcher.
One of his favorite white horses was named Prescott. He also had a horse named Nelson.
George Washington was one of the richest men in America. Things named after him: 1 state, 7 mountains, 8 streams, 10 lakes, 33 counties, 9 colleges, and 121 towns and villages.
He liked to fish.
His farewell address in 1796 was printed in the newspaper but was never delivered orally.
George Washington died of a throat infection on Dec. 14, 1799, some time after 10 p.m. at Mount Vernon, Virginia. He was 67. He was the only president to die in the 1700's.

When he died Congress (Delivered by Light Horse Harry Lee.) made this statement: "First in war, first in peace, first in the hearts of his countrymen."
George Washington was the first president to be pictured on a postage stamp. It was a ten cent stamp issued in 1847.
Quotes:
"The Constitution is the guide which I never will abandon." July 28, 1795
"Few men have virtue enough to withstand the highest bidder."
"I walk on un trodden ground. There is scarcely any part of my conduct that may not hereafter be drawn into precedent."