George Washington
John Adams
Thomas Jefferson
James Madison
James Monroe
John Quincy Adams
Andrew Jackson
Martin Van Buren
William H. Harrison
John Tyler
James K. Polk
Zachary Taylor
Millard Fillmore
Franklin Pierce
James Buchanan
Abraham Lincoln
Andrew Johnson
Ulysses S. Grant
Rutherford B. Hayes
James A. Garfield
Chester A. Arthur
Grover Cleveland
Benjamin Harrison
William McKinley
Theodore Roosevelt
William H. Taft
Woodrow Wilson
Warren G. Harding
Calvin Coolidge
Herbert Hoover
Franklin D. Roosevelt
Harry S Truman
Dwight D. Eisenhower
John F. Kennedy
Lyndon B. Johnson
Richard M. Nixon
Gerald R. Ford
Jimmy Carter
Ronald Reagan
George Bush
Bill Clinton
George W. Bush
Barack Obama
---
Events
1946 Jimmy Carter graduated from the Naval Academy.
1953 Jimmy's father died and he resigned from the Navy to run the family peanut business.
1962 Jimmy Carter was elected to the Georgia state legislature.
1976 The U.S. Bicentennial.
1976 Jimmy Carter was elected President.
1979 Militant Iranians took the U.S. Embassy staff hostage.
1980 A failed rescue attempt for the people held in the embassy fails. Nine service men died.
1980 Jimmy Carter was defeated in the presidential race by Ronald Reagan.
1981 The hostages in Iran were released the last day in office for Jimmy Carter.
---
---
Jimmy Carter
1976 - 1980
39th President
Jimmy Carter was born in Plains, Georgia on October 1, 1924. He was the first president born in Georgia.
Jimmy Carter, President from 1977-81, was the first President to be born in a hospital.
Jimmy Carter's Vice President was Walter Mondale (1977-1981).
He was the only President born in Georgia.
Jimmy started planning to go to U.S. Naval Academy when he was only twelve.
He played on his high school basketball team.
Jimmy Carter was 5' 9" and weighed about 155.
Carter was one of four Baptist Presidents.
At the age of 9, he bought 5 huge bales of cotton for 5 cents a pound. He stored the cotton and sold it a few years later when the price had more than tripled.
Jimmy Carter was on the cross-country team at the Naval Academy.
He graduated from the Naval Academy 59th out of a class of 820.
---
---
Due to illness in the family Jimmy Carter returned to the peanut farm in Georgia. He improved production and became a millionaire. He even made an appearance on What's My Line.
Jimmy Carter was the first president to walk the inaugural parade route from the Capitol to the White House.
A giant peanut-shaped balloon was part of his Inauguration Day parade.
Jimmy Carter was the only president who commanded a submarine.
His brother Billy was popular during Jimmy's time as President. He even had a beer named after him, Billy Beer.
Jimmy had a pet dog named Grits.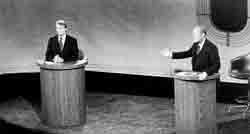 Description: Gerald Ford and Jimmy Carter in a Presidential campaign debate, September, 1976, Philadelphia.
National Archives and Records Administration.
(Click for larger image)
The last debate with Ronald Reagan was won by Reagan. It may have cost Carter the election. Later it was discovered that someone stole Carter's notes for the debate and gave them to Reagan's team. Reagan's support staff knew how Carter was going to respond to most of the questions.
President Carter insisted on being called "Jimmy" not "James."
Jimmy Carter is a speed-reader: he has been clocked at 2,000 words a minute with 95 percent comprehension.
When President Carter entered the room the band would softer play "Jubilation" instead of Hail to the Chief.
Jimmy Cater studied nuclear physics at Annapolis.
He read three or four books a week.
He had a dog named Grits.
President Carter was a Democrat.
He ended much of the ceremony and pageantry that had marked official receptions in the White House. He got rid of the trumpeters that announced the presidential family and the color guard. State dinners ended far sooner--about 11:00 p.m.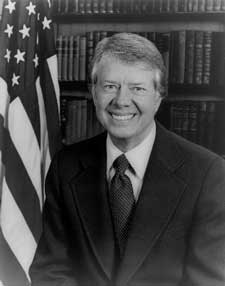 Description: Jimmy Carter, 1977.
Library of Congress
(Click for larger image.)
Amy Carter was 9 when her father became president. She attended public schools near the White House and had a tree house built on the White House grounds. When she labeled White House trees as a school project, her father thought it was a good idea and made it official. Now all of the White House trees have labels with their common and Latin name as well as information about who planted them or gave them as a gift.
Jimmy Carter lost his second term as President. He was defeated in a landslide by Ronald Reagan. Jimmy Carter had 49 electoral votes to 489 for Reagan.
He was the first President in 50 years to be voted out of office after one term.
Jimmy Carter after leaving office supported the efforts of Habitat for Humanity. An organization the builds houses for poor Americans.
Quotes form Jimmy Carter:
"America did not invent human rights. In a very real sense. Human rights invented America."