Grover Cleveland
1885 - 1889
1893 -1897
22nd and 24th President
Grover Cleveland was born in Caldwell, New Jersey on March 18, 1837. He was the fifth of nine children. He was baptized Stephen Grover Cleveland, but he always went by Grover.
He was the only President born in New Jersey.
His father was a Presbyterian minister. His father died in 1853. Grover was only 16.
Grover had a fondness for German food.
One of his first jobs was a clerk in the village store. He was paid $50 for the first year and $100 for the second year. (Plus he got lodging and food.)
He worked at a school for the blind and a neighbor loaned him money so he could study law. ( Twelve years later he repaid the loan.)
On his way he stopped in Buffalo to visit an uncle. His uncle knew a lawyer in Buffalo so Grover stayed there and studied law. The law firm was Rogers, Bowen, and Rogers. President Fillmore also studied law their. It is the only firm to have two students who became presidents.
Cleveland was 5' 11" tall and weighed 250 pounds. (He later went up to all most 330 pounds.) Cleveland and Taft are the two heaviest presidents.
He loved to go fishing and duck hunting.
In 1863, he got out of serving in the army during the Civil War by taking an exception and hiring a substitute to serve for him. He said his family needed his income to support his mother and sister.
In 1870, he was elected sheriff of Buffalo. As sheriff he refused to pass on unpleasant duties to others. So he pulled the lever at the hanging at least two prisoners. Later so of his political enemies would call him the "Buffalo Hangman."
In 1881 he was elected mayor of Buffalo. He earned $2,500 a year as mayor.
In 1882, Grover Cleveland was elected Governor of New York.
---
---
During his first campaign a scandal about him was published in the newspapers. While Cleveland was a bachelor, a "love child" conceived while he was a young man in Buffalo. It was brought up during his presidential campaign. He admitted paternity and his honesty helped calm the issue, despite the popular campaign chant against him: "Ma, Ma, where's my Pa? Gone to the White House, Ha, Ha, Ha!" Cleveland narrowly defeated Blaine in the election.
Cleveland won by a small margin of 24,000 votes. He had 219 electoral votes to Blaine's 182 electoral votes.
In three years he had gone from being the Mayor of Buffalo, to Governor of the state of New York, to President of the United states.
President Cleveland was the only President to serve non-consecutive terms.
Grover Cleveland was the first President after the Civil War who had not served in the war. Cleveland avoided the draft by getting a substitute to serve for $150.00. A 32 year old Polish immigrant took his place in the war. (His replacement survived the war.)
Grover was also the first Democratic President since before the Civil War.
Cleveland was one of two presidents that didn't go to college and had not served in the military. (Van Buren was the other.)
During his first term his Vice President was Thomas Hendricks (1885). While at home in Indianapolis, Hendricks died in his sleep on November 25, 1885. Cleveland didn't have a Vice President from (1885-1889). During his second term his Vice President was Adlai E. Stevenson (1893-1897).
Cleveland personally answered the White House phone.
Reform-minded Independent Republicans who were alienated by the Republican Party's choice of James G. Blaine backed Democrat Grover Cleveland for president. They were called Mugwumps, from the Algonquian Indian language meaning "big chief." The campaign generated into one of U.S. political histories most scurrilous. Cleveland narrowly won the election, getting just over 60,000 more popular votes than Blaine and 219 electoral votes to his 182.
Grover Cleveland was the sixth cousin once removed of Ulysses Grant
On October 28, 1886, President Cleveland dedicated the Statue of Liberty.
Grover Cleveland was the first president to be filmed. The film showed him signing bill into law.
Cleveland did not like the press or journalist. He was the last president to not give reporters a working space in the White House. They had to stand outside in the weather and wait for people leaving the White House. He was the was only president to ever refuse to attend the Gridiron Club dinner until President Trump did not attend. It is a social event held by Washington journalist. They usually tell jokes about the President or the press. It was founded in 1885 and continues to this day.
President Cleveland was one of three Presidents to get married while they were President. He is the only President whose wedding ceremony was held in the White House.
He married Frances Folsom in the White House on June 2, 1886. It was the first wedding of a President to take place in the White House. She was the youngest First Lady ever. She was 21 when she married President Cleveland. See her web page of more details.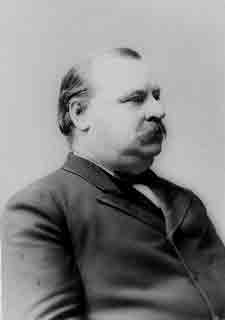 Grover Cleveland, 1888.
Credit: Library of Congress
(Click for larger image.)
President Grover Cleveland was a Democrat.
Cleveland did not want to annex Hawaii as part of the U.S. He opposed the ouster of Hawaii's native queen.
While in the White House his family had pet mocking bird, canaries, and a 1 1/2 pound dog.
In the election of 1888 he won the popular vote, but lost the electoral vote to Benjamin Harrison.
During his campaign for his second term he ran against Harrison. Harrison's wife Caroline Scott Harrison died during the campaign. Harrison stopped campaigning. Cleveland stopped also.

Map of the Presidential Election of 1898.
Department of the Interior
(Click for larger image.)
Cleveland easily won the election 1892 . He won by a third of a million popular votes and had 277 electoral votes to Harrison's 145.
Grover Cleveland was the first president to have a child born in the White House. The baby was named Ruth. The Baby Ruth candy bar was named for her. The candy bars are still sold today.
Cleveland and Franklin Roosevelt were the only two Presidents to win the popular vote in three elections.
Cleveland never supported women's right to vote.
In 1887, Franklin Roosevelt went with his father to visit Grover Cleveland in the White House. It is said that Cleveland patted the your boy on his head and said "I am making a strange wish for you. It is that you may never be president of the United States. His wish did not come true.
President Cleveland vetoed over 540 bills. Only Franklin Roosevelt vetoed more.He vetoed more bills than all of the first 21 presidents
During July of 1893, Cleveland told the public he was going on a fishing trip on a friend's yacht, but he actually was having surgery for a cancerous growth in his mouth. He was fitted with an artificial jaw.The truth wasn't revealed until 1917. He didn't want the public to worry about his health.
After his second inauguration the Cleveland's didn't move into the White House for a few weeks. The Harrison's had Scarlet Fever and the Cleveland's feared their daughter might get it.
In 1893 a depression struck the United States, prices fell and people lost their jobs.
As a result of the depression, Grover got many threatening letters. His wife asked him to increase security. His security detail went from two to twenty-seven men.
Grover is on the $1,000 bill

The Cleveland's had $300,00 to $350,000 in savings when he left the White House.
When Cleveland retired he wrote articles for the Saturday Evening Post, Atlantic, Century and Ladies Home Journal.
The Cleveland's moved to Princeton and was named a trustee by Woodrow Wilson who was president of Princeton at that time.
He wrote about his days as president in a book called Presidential Problems.
He hunted and fished with his friends and played billiards and cribbage.
The Cleveland's had two more children after he left office. His family had five children.
In 1907, Cleveland became very ill.
Grover Cleveland died in Princeton, New Jersey, on June 24, 1908.He suffered from a heart attack. He was 71 years and 351 days old. He is buried in Princeton, New Jersey.
His last word were "I have tried to so what is right."
His funeral was by invitation. President Teddy Roosevelt and Chief Justice Fuller were some of the more famous people there. He was buried next to his daughter Ruth.
Quotes:
When he got word that he had won the Democratic nomination for president he said "By Jove, that is something isn't it."
When Grover Cleveland was asked by his campaign workers what to tell the newspapers about a scandal he stated "Whatever you do tell the truth."
Cleveland's comment on being president "My God, what is there in this office that any man should ever want to get into it!"
"Though the people support the government, the government should not support the people." Grover Cleveland.