Frances Folsom Cleveland
Cleveland married Frances Folsom while he was president. Before he was married, his sister Rose filled in as First Lady.
Frances Folsom was born in Buffalo, New York on July 21, 1864.
She was introduced to Grover Cleveland soon after her birth. Grover was her father's law partner. He gave the Folsom's a baby carriage as a present for Frances when she was born.
Her real name was Frank. That is what Grover always called her. She hated being called Frankie.
When her father died, Grover helped the family with the business of his estate. He was practically her guardian.
She graduated from Well's College in1885, (She skipped her freshman year.)
Grover asked Frances' mother permission to write to her when she was attending college at Well's College. After she graduated from college he proposed to her.
They hid the fact they were engaged from the press.
They were married in the White House on June 2, 1886. It was the first wedding of a President to take place in the Blue Room in the White House. She was the youngest First Lady ever. She was 21 when she married President Cleveland. He was 28 years older than she was.
They were married in the Blue Room at 7:00 pm. It was filled with flowers. The alter held two large candelabra which President Jackson had given to the White House. The Marine band under the direction of Souza provided the music.
All of the cabinet members attended except for Garland. When Garland's wife died he pledge never to attend a festive occasion.
---
---
President Cleveland called his wife the President's Lady. He liked that better than First Lady.

They honeymooned in Deer Park, Maryland.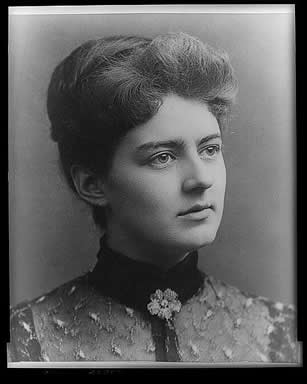 Library of Congress
The press found out where they were staying and greeted the president on his the first morning. Cleveland was extremely upset with the press. This was the first time that the press invaded the privacy of a president.
She was extremely popular as First Lady.
Francis played the piano very well.
She could read Latin and was fluent in German and French.
She held two receptions each week. One was on Saturday so working women could attend.
Cleveland lost the election of 1888, but was re-elected in 1892.
When they were saying good bye to the White House staff, Francis told them to take good care of the White House because "We are coming back, just four years from today."
His campaign posters and other materials featured a picture of Frances. Some people claim that she won the election for him.
They had five children. Ruth Esther was the first child to be born to a President in the White House. A candy company named the "Baby Ruth" candy bar after her.
In 1904, their daughter Ruthie died of diphtheria. She was 12. This was extremely upsetting to the Cleveland's.
On June 24, 1908, Cleveland died of a heart attack.
Five years later Frances re-married. She married Thomas J. Preston Jr. a professor at Princeton. She was the first First Lady to remarry.
Frances died in her sleep when she was 83. She died on October 29, 1947.
She is buried next to President Cleveland in Princeton.