Abigail Smith Adams
First Lady 1797-1801
Abigail was born November 11, 1744 in Weymouth, Mass.
Her father William Smith was a Congregational pastor.
She loved to read.
She married John Adams in 1764. She was nineteen years old when she got married. Her parents didn't want Abigail to marry John Quincy.
They had five children; Abigail, John Quincy, Charles, and Thomas. A fifth child died as a baby.
While John was at the Continental Congresses (First and Second), Abigail would write him letters expressing her political views. She was against slavery and thought women should have the right to own property.
As "First Lady" she spoke out in favor of women's rights.
When John Adams was an ambassador in Europe, he use to send items to Abigail to sell in the Boston area.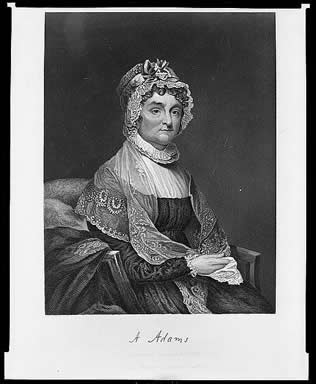 Library of Congress
She was the first "First Lady" to live in the White House. At that time the White House was called the President's House. She had a hard time finding anyone to chop wood for the stove and heat.
They didn't call the President's wife a First Lady at that time. People referred to her as Mrs. President."
There were only six rooms completed when they moved into the White House. Abigail use to dry her laundry in the East Room of the White House.
People said she gave lively parties and encouraged political discussion at her parties.
Abigail would also send favorable information about her husband to the newspapers.
Adam's political rivals referred to Abigail as "Mrs. President" to imply she had too much political influence on President Adams.
She was not happy when Jefferson defeated her husband for the Presidency in 1800.
Died of typhoid fever October 1818.
She is buried in Quincy, Massachusetts along side John Adams.