Mamie Geneva Doud Eisenhower
Mamie Geneva Doud was born in Boone, Iowa on November 14, 1896.
Her father earned a lot of money in the meat packing business. He retired when Mamie was seven and moved his family to Denver, Colorado.
After high school, she attended Miss Woolcott's private finishing school. Where she learned social graces and foreign languages.
In October 1915, she met Second Lieutenant Dwight Eisenhower.
They became engaged on Valentines Day 1916. Dwight presented her with a miniature copy of his West Point ring.
They were married on July 1, 1916. Mamie was only 19 and Ike was twenty-five.
A few weeks after they were married Dwight left for a temporary assignment. He said, "My country comes first and always will." Mamie was a little shocked.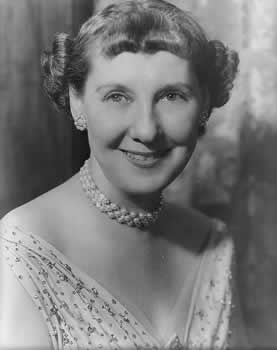 Library of Congress
Mamie and Dwight lived in 27 different locations in thirty-seven years as part of his role in the military.
They enjoyed entertaining. Mamie would play the rented piano while other guest sang along. Their apartment was called "Club Eisenhower" by their friends.
When she got married she didn't know how to cook. Most she could do was to broil a steak or cook a baked patato. She also knew how to make fudge. When she was a little girl she was not allowed in the kitchen. Ike did most of the cooking.
Mrs. Eisenhower was very shy.
Their first son Doud died of scarlet fever when he was only 3 years old. His nickname was "Icky."
Mamie and Dwight always slept in the same bed. She said she like to reach over in the middle of the night "and pat Ike on his old bald head anytime I want to."
When WWII began, Dwight was sent to Europe for three years.
Mamie volunteered for the Red Cross during the war.
She had an inner ear problem that caused her to stumble at times. There were rumors that she was an alcoholic based on her stumbling. She wasn't an alcoholic as was stated by Democratic rivals.
She joined Dwight in his campaign for the presidency in 1952 and enjoyed meeting people and large crowds.
Mrs. Eisenhower and the president were the first White House family to send Christmas cards to the public.
Dwight loved to play bridge. Maime would never be his partner because he would yell at her every time she misplayed.
Mamie stayed in bed until 10 am and often longer. She would respond to letters, order groceries and conduct other business while she was in bed. She once stated: "I believe that every woman over fifty should stay in bed until noon."
Mamie and Dwight went on vacation in the Catocitin Mountains at a retreat called Shangri-La by FDR. Mamie said she wouldn't go back their because it was so worn down. They had it re-done and Eisenhower named it Camp David after his grandson. Most of the presidents that followed Eisenhower used it to relax.
They often ate dinner on "TV Tables" while watching the evening news on television.
Mamie's mother, Mrs. Doud, lived with them in the White House.
There grandchild, David married then vice president Richard Nixon's daughter.
Dwight died on March 28, 1969 and Mamie passed away on November 1, 1979. She was 83 years old. She is buried beside Dwight at the place Place of Meditation at the Eisenhower Center in Abilene, Kansas.