Anna Tuthill Symmes Harrison
Anna Symmes was born on July 25, 1775 in Flatbrook, New Jersey.

Anna's mother died shortly after Anna was born.

She grew up in the home of her wealthy grandparents.

Anna was educated in a school for girls in New York.

When she was 19 she moved to North Bend, Ohio to live with her father.

Shortly after moving there she went to visit her older sister in nearby Lexington, Kentucky. While there she met William Henry Harrison. He was a lieutenant in the army.

Harrison and Anna both said it was love at first sight. She was a lovely young lady.

Her father didn't want her to see William. However, on November 25, 1795 she married William. Some sources say they ran away and got married without her father's permission. Others say she was married at home with her father present.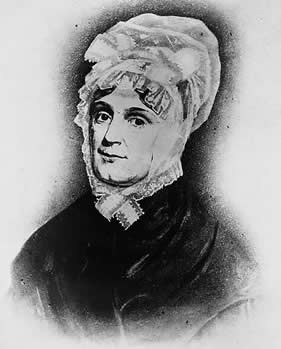 Anna Harrison
Library of Congress
Their first child was born in 1796.They had 10 children and another who died as a baby.
Anna Harrison had more children than any other first lady. She outlived all but one of her children. The surviving child was John Scott who was elected to the House of Representatives in 1853.
Her doctor traveled from Lexington, Ky. to Ohio when Anna was having her fifth child. In his honor they named their new son, John Scott after the doctor. The doctors wife had a child soon after that and they named the boy William Henry Harrison Scott.
In 1840, William Harrison was elected president. Mrs. Harrison was sixty-five. She was not healthy and did not travel to Washington for Williams inauguration. Before she could leave for Washington, she received the news that her husband had died of pneumonia on April 4, 1841.
The "First Lady" never saw the White House. She and Martha Washington are the only First Ladies that never saw the White House.
She was the first First Lady to have a public education.
She was the first First Lady to be given franking privileges. (She could send US Mail without paying postage.)
She was oldest First Lady. She was 65 when she became First Lady. Barbara Bush was a close second, she became First Lady at 64.
Her husband gave a long inauguration speech and caught a cold and died just after taking office. He was only in office for one full month (31 days).
After William died she campaigned to secure federal jobs for members of her family.
Anna made her position on issues know to the new administration and congress. Other First Ladies before and after her seldom did that.
She was the first First Lady to receive a pension. She got a one time payment of $25,000.
Anna opposed slavery and encouraged her sons to join the Union Army during the Civil War.
Mrs. Harrison died on February 25, 1864.