Mary Todd Lincoln
Mary Todd was born on December 13, 1818 in Lexington, Kentucky.
Mary's mother died when she was six.
She attended some of the best schools at that time and learned about French, music, and art.
She married Abraham Lincoln on November 4, 1842. Her family didn't think Lincoln was a worthy husband.
Mary and Abraham both knew that he had "married up." (Higher in society.)
Mary set out to upgrade Lincoln's close and manners. The most expensive thing they purchased during their first year of marriage was a new "superior black cloth suit.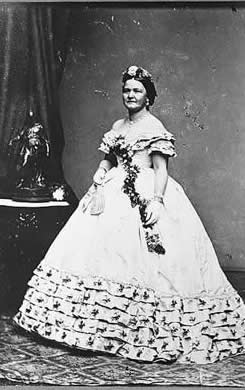 Library of Congress
She also taught him how to entertain his guests. to use the right fork and interact with the servants.
Mary encouraged Lincoln to run for the U.S. House of Representatives. He lost that election. He also lost an election for the U.S. Senate, but became President in 1860.
When Lincoln was elected to the House of Representatives she went to Washington with Lincoln. She have few social outlets at that time and found Washington D.C. "intolerable. She returned to Lexington after a few months.
Mary Lincoln was accused of supporting the South. She was also critizied for giving parties in war time and Abe was upset with her when she went over the budget for refurbushing the White House.
In 1862, her son Willie died of typhoid. He was 11 years old.
Mary was afraid her older son, Robert, might die also and refused to let him serve in the Union Army.
Lincoln was assasinated on April 14th, 1865. Mary was too upset to attend his funeral.
She was in debt when Lincoln died and was worried about having to live in poverty. Congress did not approve a pension for her until 1870.
Her son Tad died of tuberculosis in 1871.
Mary's mental state after the thrid death in her family caused her mental problems. Her son Robert had her declared insane in 1875.
She did get herself released.
She died on July 15, 1882 in Springfield, Illinois. Mary was 63. She is buried next to her husband.