Julia Dent Grant
Julia Boggs Dent was born near St. Louis on January 26, 1826.
She lived on a plantation and attended the Misses Mauros' boarding school.
She met Ulysses Grant when he was an army lieutenant in 1844.
Her father, Colonel Dent thought Grant was too poor to marry Julia.
They were married after a four year engagement on August 22, 1848.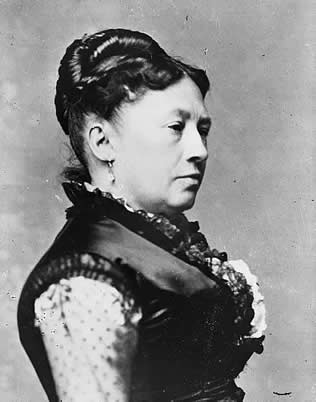 Library of Congress
The Grants (Grant's family)did not attend the wedding.
Julia and Ulysses lived at numerous military camps in the early years.
In 1868, Grant, a Civil War, hero was elected President
Julia Grant was cross-eyed.
Mrs. Grant enjoyed entertaining and threw lavish parties. Her daughter Nellie was married in the White House.
She wanted her husband to run for a third term as President. Grant refused.
In 1884, Grant lost his money in a bad investment and also learned he had throat cancer.
Ulysses died in 1885.
Julia continued to live in Washington on the money from Grant's autobiography. She also wrote her memoirs.
She is buried with her husband in New York City.