Lucretia Rudolph Garfield
Lucretia Rudolph was born in Hiram, Ohio on April 19, 1832.
She and James Garfield attended school toghether.
In 1854, James went to Williams College and Lucretia taught school.
They were married on November 11, 1858.
James Garfield was away from home due to his work in the Ohio State Senate. Since he was gone so much Lucretia thought that he didn't love her. She once said their marriage was a "great mistake."
When James was elected to the U.S. House of Representatives and they moved to Washington together, their marriage got better.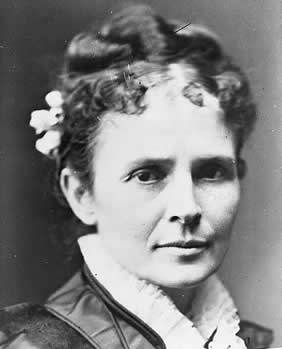 Library of Congress
They had eight children. Only five of the eight lived.
Lucretia was the first First Lady to take inventory of the things in the White House. She used the Library of Congress to research the contents.
Just after her husband's election in 1880 she caught malaria. She went to a resort to recover. While she was gone, Charles J. Guiteau shot and badly wounded James.
Garfield died on September 19, 1881.
She died much later on March 14, 1918 in Pasadena, California. She is buried next to her husband in Cleveland, Ohio.