Caroline Scott Harrison
Caroline Lavinia Scott was born on October 1, 1832 in Oxford, Ohio.
When she was 17 she met Ben Harrison. He was a student of her father at Farmer's College in Cincinnati.
They were secretly engaged in 1852 and were married on October 20, 1853.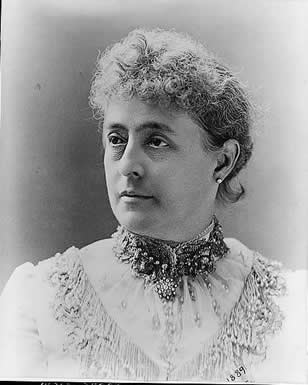 Library of Congress
In 1881 Caroline suffered a bad fall and and had health problems after the fall.
Their third child a baby girl died at birth.
She became Ben's First Lady when he was elected in 1889.
The Harrison's had electricity installed in the White House, but were afraid of it. They refused to touch the switches.
She began the White House china collection. She organized china that she found in storage. The china was left for future White House families.
Caroline founded the Daughters of the American Revolution in 1890.
She also put up the first Christmas tree in the White House.
Caroline Harrison was often ill with respiratory problems. In April of 1892 she became ill again. Her illness might have been due to the time she spent in the White House basement and dusty attic working on White House renovations.
Harrison took his wife to the mountains in New York. He hoped the clean air might help her.
In September, the doctors diagnosed Carolyn as having tuberculosis. She asked to return to the White House. She was carried into the White House on a stretcher.
President Harrison and his family took turns watching over Carolyn. Even though the election was coming up, Harrison did not want to leave her side.
On October 25, 1892 Caroline died in the White House. She had been sick with tuberculosis. She was 63.
Her daughter Mary McKee then served as hostess for White House affairs.
She is buried in Indianapolis.