Grace Goodhue Coolidge
Grace Goodhue was born in Burlington, Vermont on January 3, 1879.
She attended the University of Vermont as a teacher. She then moved to Northhampton, Massachusetts to teach. She taught at the Clark School for the Deaf.
Grace first saw Calvin Coolidge through the window of the boarding house next door. He was shaving and wearing only long underwear and a derby hat. She had to laugh.
Grace was very sociable and Calvin was very quiet. In fact later he was referred to as Silent Cal.
They were married in her parents' home on October 4, 1905.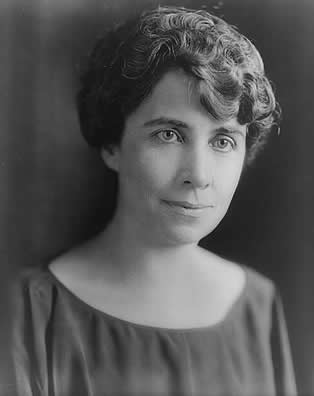 Library of Congress
When they got married, Calvin gave her 52 pairs of socks to darn. Grace asked him if he married her to get his socks mended. His reply was "No, but I find it mighty handy."
Mr. Coolidge was elected mayor of Northhampton.
Grace was the first First Lady to smoke cigarettes.
Cal and Grace had two children both boys, John and Calvin.
Coolidge's political career continued. He was elected lieutenant governor and then governor of Massachusetts.
In 1921, Calvin became vice president under Warren Harding who died in 1923.
While Grace was First Lady, her son Calvin Jr. died from blood poisoning in 1924.
Calvin became president in 1923 when Harding died. He served out that term and ran for president in 1924. Coolidge did not seek another term as President.
In January 1933 Calvin died in Northhampton.
Grace continued to live a full life, traveling to Europe, taking her first airplane ride, and following the Boston Red Sox.
Mrs. Coolidge died on July 8, 1957 of a heart attack. She is buried beside Calvin in Plymouth, Vermont.