Lucy Ware Webb Hayes
Lucy Webb was born on August 28, 1831 in Chillicothe, Ohio.
Lucy's father died when she was two years old.
She went to college at Ohio Wesleyan College and graduated from Wesleyan Female College in Cincinnati. She was the first First Lady to graduate from college.
Rutherford B. Hayes met Lucy while she was still in college. They were married on December 30, 1852.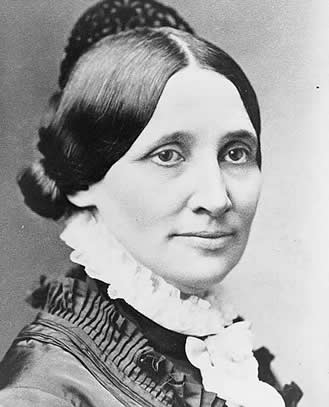 Library of Congress
Mrs. Hayes had been a supporter of the women's rights movement. After her marriage she followed her husband's beliefs that women should take care of the home and family. She was antislavery throughout her life.
At the end of the Civil War Rutherford Hayes had been elected to House of Representatives. Lucy left her children with relatives and join her husband in Washington.
She was the first presidents wife to be called the "First Lady".
They had eight children. Three of the eight died in infancy.
After Hayes became President, Lucy was a popular First Lady. She loved entertaining and did well at it. Some of her guests complained about the lack of alcohol at the parties.
Lucy was called "Lemonade Lucy" while she was First Lady because she always served lemonade instead of liquor.
She was very religious and didn't allow card playing, dancing, smoking or playing pool at the White House.
Lucy hosted the first Easter Egg hunt on the White House lawn. The first White House Easter Egg Roll was held April 2, 1879. The presidential tie to the egg roll began when Congress abandoned its own long Easter Monday children's festival and declared in 1878 that the western slope of Capitol Hill and the Capitol lawns and terraces could no longer be used as "playgrounds or otherwise." Then on Easter Monday in 1879, Capitol police refused to admit the children to the grounds. They went to the grounds of the National Observatory and the White House, apparently at the invitation of the president.
She died of a stroke on June 25, 1889. She is buried with her husband at their estate, Spiegel Grove in Freemont, Ohio.