Ida Saxton McKinley
Ida Saxton was born in Canton, Ohio on June 8, 1847.
Her father was a wealthy banker and she attended the best schools. She finished her education with a tour of Europe.
She spent some time working as a cashier in her father's bank.
She met her future husband, William McKinley, at a picnic.
Ida and William were married on January 25, 1871 when she was 23 and he was 27.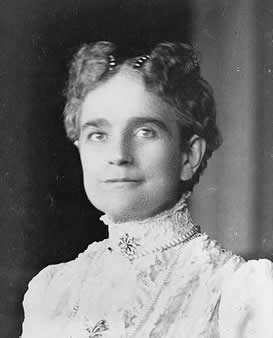 Library of Congress
Their baby Ida died in 1873. Her first daughter Katie died of typhoid fever in 1876. These events were devastating to Mrs. McKinley. She suffered from severe headaches and seizures.
In 1892, McKinley was elected governor of Ohio. They moved into a hotel across from the capitol building. Every day at 3 p.m. Governor McKinley would wave a handkerdhief out the window to his wife and she would wave back from the hotel.
McKinley became President in 1897 and Ida did her best to serve as First Lady.
She would greet guests in the reception line seated on a velvet chair. She always sat next to the President who would cover her face with a handkerchief if she had a seizure.
After McKinley was assasinated, Ida returned to Canton, Ohio. She visited her husband's grave all most everyday.
She died on May 26, 1907 at the age of 59. She is buried next to her husband and their two little daughters.