Helen Herron Taft
Helen Herron was born on June 2, 1861 in Cincinnati, Ohio.

After her visit to the White House during the Hayes' administration when she was 17, she announced she would live there some day.
Helen's nickname was Nellie.
When Helen was 17, her father took her to visit President Hayes in the White House. Hayes later invited her to stay at the White House for a week. She thought the visit was "the climax of human bliss. She vowed one day to live in the White House.
Nellie was unconventional. She liked to smoke, drink beer and plany cards for money. She also enjoyed reading and carried a book whereever she went.
Helen worked as a teachers.
Helen met William Taft in 1879. They dated for over five years.
Nellie and William were engaged in May of 1885 and married on June 19, 1886.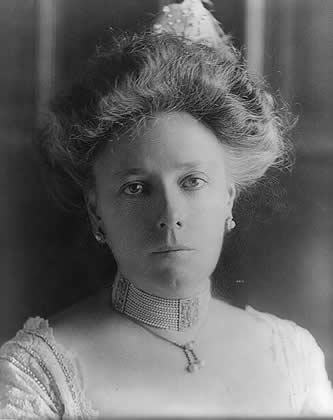 Library of Congress
They had three children. The children were named Robert, Helen, and Charles.
In 1900, President McKinley appointed Taft to the Governor General of the Philippine Islands. Nellie to reduce infant mortality in Manila. She provided children with sterilized milk and improve sanitation. The program was very successful.
He and Helen survived a typhoon while in the Philippines.
While she was in the Philippines, she learned how to surf.
She also learned some of the local dances and occasionally wear native costumes.
Helen persuaded Taft to down a judgeship in order to be Secretary of War under Teddy Roosevelt. One of his main duties was to oversee the building of the Panama Canal.
Helen, unlike most first ladies up to the time, kept up with politics and help her husband write his speeches.
Helen brought in African Americans servants to work in the White House.
Helen supported the rights of woman to vote. (Women did not have the right to vote until 1920.)
Mrs. Taft wanted William Taft to become President. She urged him not to take an appointment to the Supreme Court. She felt it would ruin his chance to be President.
Some people said she wanted Taft to be president more than he wanted to be president. William wanted to be a Supreme Court Judge. She talked him into running for president.
Taft became President in 1908.
Helen was the first First Lady to ride in the carriage with her husband during the Inaugural Parade. (Every First Lady since then have accompanied their husband in the parade.)
She loved being the First Lady. She stated that she felt like Cinderella.
Helen made a deal with a car dealer to supply them with a car in exchange for letting them use Taft's name in their advertisements. The 1908 Stanley Steamer was the first presidential auto.
Helen was a perfectionist. She was very nervous about everything being perfect. She earned the name "Nervous Nellie" which is often used to describe an anxious person.
She was a honorary vice president of the Girl Scouts.
Mrs. Taft was responsible for planting three thousand cherry trees in Washington D.C. Washington is still famous for its cherry trees.
However in May of 1909 she suffered a stroke. For over a year she couldn't walk or talk normally.
Helen Taft had recovered enough by 1911 to attend her 25th Anniversary party on the White House Grounds. The Taft's invited the descendants of all the former presidents to the party. They had more than 8,000 guest at the party. She and her husband stayed and listened to the bands until one in the morning.
Helen was very sad when she had to leave the White House in 1913.
In 1921, President Harding appointed William Taft to the Supreme Court. Mrs. Taft was happy that they would be returning to Washington.
On March 1930, Taft died of heart disease.
Nellie died when she was 81 on May 22, 1943.
She is buried next to her husband in Arlington National Cemetery.