Jane Appleton Pierce
Jane was born on March 12, 1806 in Hampton, New Hampshire.
Jane Pierce's father died when she was thirteen.
Franklin Pierce met Jane in 1826. They were engaged for eight years.
They were married on November 19, 1834. Franklin was in the U.S. House of Representatives when they were married.
Jane never liked her husbands involvement in the government. She blamed his involvement government for the death of her sons.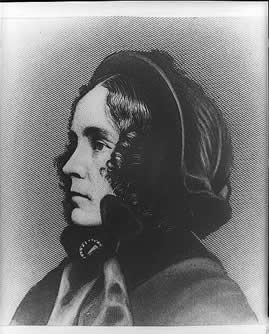 Library of Congress
Their first son, also named Franklin, died when he was only a few days old. Their second son Frank also died at an early age. He died of typhus when he was four years old.
Their third son, Benjamin (Bennie) died in a train accident in 1853. He was 11. Mr. and Mrs. Pierce witnessed the train accident.
Jane never recovered from their third child dying. She stayed upstairs in the White House and wrote letters to Bennie.
After the death of her son, Jane didn't have any visitors at the White House. She went to a few social events, but she could not get rid of her grief.
People saw the White House as "a gloomy place."
First Lady Jane Pierce and President Pierce lived on an island for two years after he left the White House.
She died of tuberculosis on December 2, 1863 and is buried in Concord, New Hampshire.