Eleanor Roosevelt Roosevelt*
Anna Eleanor Roosevelt was born in New York City on October 11, 1884.
(*Her maiden and married name were the same. Franklin Roosevelt was her fifth cousin.)
Her father was an alcoholic and was never home very much.
Theodore Roosevelt, who became president in 1901, was her uncle.
Both of her parents had died by time she was ten years old. Her mother died first. She loved her father very much, but was often disappointed in his actions. He was an alcoholic and didn't always keep his promises to her.
Eleanor attend the Allenswood School in England for three years.
She grew to be almost six feet tall.
Eleanor did volunteer work in the Rivington Settlement in New York City. It was a poor area. She and some friends taught young girls physical education and dancing. It was not uncommon for some of these girls to work 12 to 14 hours a day, 6 days a week and only earn $6.00 for a weeks work.
Eleanor met Franklin while he was a student at Harvard.
They were married several years later on March 17, 1905 in New York City. Franklin's mother Sara was against the marriage. Sara and Eleanor had a strained relationship for many years do to her opposition of the marriage.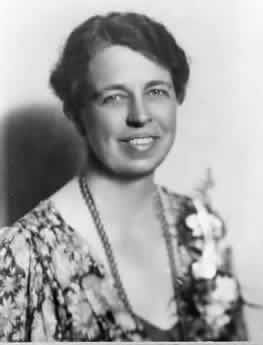 Library of Congress
Eleanor's mother-in-law dominated her life. She decided where Eleanor would live and how her children should be brought up.
Both Eleanor and Franklin referred to their children as "chicks" as in little chickens.
Eleanor handled the discipline with the children. Franklin had a hard time critizing his children even when they were college age.
In 1910. Franklin won a seat in the New York Senate and they moved to Albany and away from her mother-in-law.
At time women could not vote. Eleanor was not in favor of giving women the right to vote. She would later change her mind on this issue.
Eleanor once few in a plane piloted by the famous female pilot Amelia Earhart.
During WWI Eleanor volunteer for several organizations to help the war effort. She worked in a canteen helping servicemen traveling through Washington, D.C. She also directed a program in which women knitted scarfs for U.S. solders.
In 1920, Franklin Roosevelt rand for Vice President (James Cox was the canidate for president.) Warren Harding won the election for President. Eleanor's first vote ever was for her husband for Vice President of the United States.
In 1921, Franklin was struck with polio and was paralyzed. Eleanor took care of him and worked hard on his elections. She thought he could bring the country out of the depression.
In 1927, Eleanor Roosevelt wrote and article entitled "Ethics for Parents." In the article she had a seven point code for parents:
Furnish and example in living.
Stop preaching ethics and morals
Have a knowledge of life's problems and imagination.
Stop shielding your children and clipping their wings.
Allow your children to develop along their own lines.
Don't prevent self-reliance and initiative.
Have vision yourself and bigness of soul.
During her first year of being First Lady she traveled 38,000 miles to view the conditions of the common people in the U.S.
She wrote a monthly magazine column and a daily newspaper column, "My Day." She also wrote three books: "This is My Story," On My Own," and "The Autobiography of Eleanor Roosevelt."
Mrs. Roosevelt was not a big baseball fan. However, she did attend a World Series game betweent the Yankees and the Cubs in which both Babe Ruth and Lou Gehrig hit home runs. (She slept through most of the game.)
Eleanor also fought for the rights of African Americans. She defied the Daughters of the American Revolution by arranging for the black singer Marian Anderson to perform at the Lincoln Memorial.
She also visited some war zones during WWII.
In 1945, President Roosevelt died.
Harry Truman appointed her to work at the new United Nations.
On November 7, 1962, Eleanor died of a blood disease. She is buried beside her husband in Hyde Park in New York.
Quotes:
"No one can make you feel inferior without your consent."
"Learn from the mistakes of others. You can't live long enough to make them all yourself."
When her husband, Franklin D. Roosevelt died she was quoted saying:
"I am more sorry for the people of this country and for the world than I am for ourselves."