Claudia Taylor Johnson
Claudia Alta Taylor was born in Karnack, Texas on December 2, 1912.
Her nickname was "Lady Bird."
Lady Bird's mother died of a bad fall when Lady was five.
She graduated from High School when she was 15.
Claudia was a very good student. She graduated from the University of Texas in 1933 in the top 10% of her class.
She met Lyndon Johnson in 1934. He proposed to her two days later.
Her wedding ring cost $2.50. He bought it a Sears.
They were married on November 17, 1934 in San Antonio, Texas.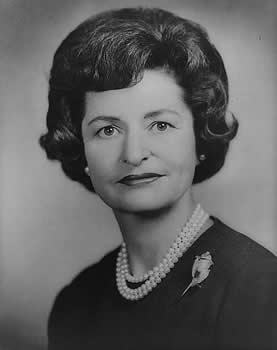 While Lyndon was in the service she ran his Congressional office in Washington, DC.
Lady Bird did run the finances. While Lyndon was away during WWII she bought a radio station in Austin, Texas. She developed it into a thriving business.
They had two daughters, Lynda Bird and Luci Baines.
Lady Bird worked extremely hard on Lyndon's campaign for the Senate in 1948.
Lyndon Johnson was very demanding of his wife. He told her what to wear and ordered her around in public. Her female friends felt sorry for her. Lyndon would embarrass her in public. He would yell things like get me a piece of pie. If she didn't respond he would yell louder. He would do that in front of other people.
For years, Lady Bird Johnson brought her husband breakfast in bed.
While he was drinking coffee and reading the paper, she would also lay out his clothes for him. She would unbutton his shirts so he wouldn't have to do that to put on the shirt. She would put in the collar stays and cuff links. She would fill his fountain pen and place that along with his handkerchief, cigarette lighter and money in his pocket. She also shined his shoes.
When he was a congressman, Lyndon would fly home on a friends private jet. Lady Bird would have to drive to Texas which at that time was a 3 to 5 day trip. She would have the car full of boxes. She would bring the dishes and pots and pans. (They only had one set for the two apartments.)
Lady Bird became First Lady when John F. Kennedy was killed on November 22, 1963.
Mrs Johnson was responsible for the passing of the Highway Beautification Act. She promoted the Head Start Program and worked with conservation groups.
After Lyndon Johnson died in 1973, Mrs Johnson served on the board of the LBJ Library in Austin, Texas. She also served on the Board of Regents for the University of Texas and served on the National Parks Advisory Board.
Lady Bird also helped in her son-in-law campaign for lieutenant governor of Virginia in 1976.
She founded the National Wildflower Center and is a trustee for the National Geographic Society and the American Conservation Association.