Julia Gardiner Tyler
Julia was raised in a wealthy family. Both her father and mother were wealthy.
She attended the Madame N.D. Chagary's Institute for Young Ladies in New York.
She created a scandal when it became known that she had modeled for an advertisement in her younger years. When her family found out about the ad they sent her and her sister to Europe.
Julia had marriage proposals from future president James Buchanan as well as Supreme Court Justice John McLean.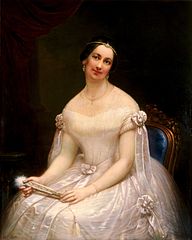 Julia and her sister were invited to the most important parties including those at the White House. She caught the eye of President Tyler.
In 1844, an explosion of a navy gun aboard the USS Princeton accidentally killed two of President Tyler's cabinet officers and Julia's father. Julia was said to have fainted in President Tyler's arms.
They were married four months after her father was killed.
John Tyler married Julia two years after his first wife Letitia Tyler died. Letitia died in 1842 and John remarried in 1844. When Letitia died she was holding a rose in her hand. Some people claimed that it was a prediction that she would be replaced by a woman named Rose. Julia, Tyler's second wife was well known as "The Rose of Long Island."
Julia was 24 and John was 54. He was nine years older than Julia's mother. John Tyler's daughter Letitia was also older than Julia.
Both Letitia and Julia served as First Ladies.
Julia enjoyed having parties and dancing. She introduced the White House guess to the Waltz and the Polka. They were considered decadent because the dancing partners touched hands.

John Tyler was the first President to be married while he was President.
Julia was born on May 4, 1820 in Gardiner's Island, N.Y.
Julia was called the "Belle of Long Island."
She served as First Lady from 1844-1845.
John bought her a fancy coach that was pulled by six white Arabian horses. The coach drew attention to Julia when she traveled around Washington.
Mrs. Tyler introduced the tradition of the Marine Band playing "Hail to the Chief" when the president entered the room. Some say she did this because her husband was 5' 8" tall and some people didn't see him when he entered.
Julia was the first First Lady to hire a press agent.
She had 8 maids that attended to her.
Julia Tyler worked hard to support her husband while he was president. She lobbied congressmen on the issue of annexation of Texas.
After President Tyler signed the Texas Annexation bill, he gave the gold pen he used in the signing to Julia to wear around her neck.
She only served as First Lady for eight months.
Over two thousand people were invited to the Tyler's farewell ball. Over 1,000 attended. Over eight cases of Champagne were consumed as well as bowls of punch.
After Tyler's term in office they moved to John's plantation, Sherwood Forest.
Julia added a 68 foot ballroom to the main house.
Julia play the guitar.
The Julia and John Tyler had seven children. Between his first and second wife he had 15 children. The most by children of any president. His last child was born when he was 70.
Even though Julia was born and raised in New York she supported slavery.
When Virginia succeeded from the union, John Tyler joined the Confederacy. He was considered a traitor to his country.
Julia was 41 when John Tyler died.
She later fled to New York when the union solders were moving across Virginia.
Julia Tyler later petitioned Congress of a pension. She was the first First Lady to get an on going pension not a one time payment. She was given $1,200 a year that was later raised to $5,000 per year.
Julia Tyler died in the same hotel room as her husband John had died 27 years earlier.
She died in Richmond, Va. on July 10, 1889. She was 69. She is buried next to President Tyler in Richmond, VA.
Quotes:
Julia Tyler: I have commanded my auspicious reign and am in quite possession of the President."