Ellen Axson Wilson
Ellen Louise Axson was born on May 15, 1860, in Savannah, Georgia.
She lead a charmed life and attended the Female Seminary in Rome, Georgia.
She was an accomplished painter.
While in Rome, GA. she met Woodrow Wilson a lawyer from Alanta. They met in 1883.
He continued his education and she studied painting.
During their thrity years of dating and being married Woodrow and Elly exchanged over 1,400 letters. The only other presidential couple that wrote more thatn that was John Adams and his wife Abigail. They wrote to each other once or twice a day.
Ellen (Elly) had turn down three other proposals for marriage. She was looking for a man that was good, nice, handsome, splendid, delightful, intellegent and interesting. Woodrow wasn't that hansome, but he passed.
Ellen was 25 when she married Woodrow on June 24, 1885. They were married by two ministers, her grandfather and Woodrow's father.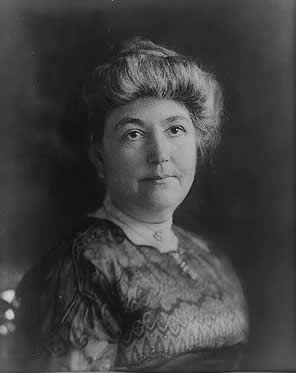 Library of Congress
Mrs. Wilson would proof read articles that Mr. Wilson wrote.
She renovated the third floor of the White House.
They had three daughters, Margaret, Jessie, and Eleanor.
Their daughter Jessie was married in the East Room of the White House on November 25, 1913. The guest danced the Fox Trot which was the popular dance that year.
Their daughter Nell (Eleanor) was also married in the White House on May 7, 1913
She believed Woodrow would achieve greatness. She helped him with his speeches, courted polititians, and gave him political advice. She was thrilled when he was elected president.
Ellen continued her painting even when she was First Lady.
She lobbied for improvements for women and black people living in Washington, D.C. She was responsible for the passing of a slum clearance bill. The bill was called the Ellen Wilson Bill.
Mrs. Wilson got ill in 1914 with Bright's disease which attacked the kidneys. (President Arthur also died of Bright's disease.
While she was on her death bead she asked Woodrow if he could get Congress to act on her project to clean up Washington's allyways. Congress passed the bill that day. She died later that day on August 6, 1914. She was buried with her parents in Rome, Georgia.
Her last words were "Doctor, if I go away, promise me you will take good care of my husband."