Lou Henry Hoover
Lou Henry was born on March 29, 1874 in Waterloo, Iowa. When she was ten she and her family moved to California.
In 1894, she enrolled at Stanford University in Palo Alto, California.
She was the only female geology major at Stanford.
Lou Henry was the first woman to graduate from Stanford with a degree in geology.
She met Herbert Hoover in the geology lab at Stanford.
Both she and Herbert were born in Iowa and in the same year.
They were married on February 10, 1899 in Monterey, California.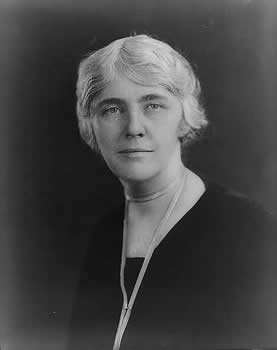 Library of Congress
For their honeymoon, they took a slow boat to China. (Herbert was taking a job with a mining company in China.)
Mrs. Hoover learned Chinese while she was in China. She and Herbert Hoover would sometimes speak Chinese while the were in the White House so they could have a private conversation.
Lou and Herbert had two sons, Herbert Jr. and Allan.
Herbert Hoover became a millionaire.
During WWI Hoover was appointed by President Wilson to be his food administrator.
Later Hoover became President.
Lou served as president of the Girl Scouts and helped coordinate one of the first Girl Scout Cookie Drives in 1935
Lou was very happy being First Lady. However, the stock market crash of October, 1929 began the Great Depression.
Mrs. Hoover worked to help the needy. She made a radio speech from the White House urging women to help the needy. (The radio speech from the White House was a first for a First Lady.)
Lou had a sudden heart attack on January 7, 1944 and died. She was buried at Palo Alto, but later her body was moved to West Branch, Iowa where she rests next to her husband.