Hillary Rodham Clinton
Hillary Diane Rodham was born October 26, 1947 in Chicago, Il.
She was the first of three children. She had two younger brothers.
She attended Wellesley College.
Hillary met Bill Clinton while she was attending Yale Law School.
After she graduated from law school she worked for the Children's Defense Fund. In 1973 and 1974 she worked for the House Judiciary Committee.
Hillary and Bill Clinton were married on October 11, 1975 in Arkansas.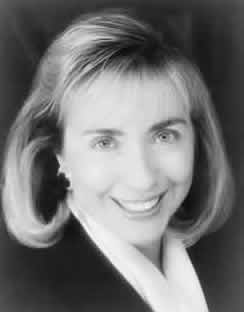 Hillary Clinton
Library of Congress
When Bill became Governor of Arkansas she worked as a lawyer.
After Bill became President, Mrs. Clinton headed the Task Force on National Health Care Reform. The reform package failed.
Hillary won a Best Spoken Word Grammy for the audiobook of 1997's "It Takes A Village".
She was later elected as a U.S. Senator from New York.
On January 20, 2007, Hillary Clinton announced that she was running for President of the United States. She is the first First Lady to run for president.